Summary: Expats in Ireland have a lot of options when they consider where they would like to live on the Emerald Isle. From great cities like Dublin and Galway, to more rustic areas such as Killarney, this is a good start for expats looking to explore where they will be happiest in Ireland.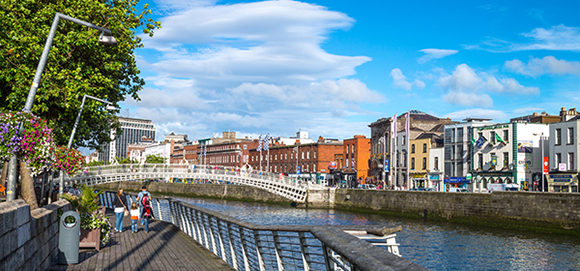 The best place to live in Ireland depends on what you hope for as an expat in Ireland. If you will work in Ireland and are relocating there for a specific job, the options are a little more clear cut.
However, if you have a more flexible plan, such as being a retiree who will not be working, obviously there are more options available.
As it completely depends on your situation, these locations are in no particular order:
Dublin
Expats in Dublin live in one of the great international cities of Ireland. As one would expect, the cost of living in Dublin is expensive compared with many other areas in Ireland, but it's still cheaper than others, such as London and New York.
One of the most knowledgeable expats on our Ireland network wrote: "young, educated, employed, and seeking night life? There's no place better than Dublin. Rent is expensive, but public transport and two good legs can get someone to any number of interesting places any given day of the week. It's frequently mentioned (if I recall correctly) as one of Europe's greatest cities."
Outside of Dublin
Some expats in the Dublin area, such as families and those seeking a slightly slower pace of life, opt for the suburbs outside of the city. As noted in our article about The expats in Dublin Suburbs have a lot of options from which to choose. Blackrock, Donnybrook, Drumcondra and Dundrum are just a few of the options covered.
Galway
The city of Galway is located on the river Corrib in County Galway in the western part of Ireland right next to the Atlantic Ocean. The employment prospects in Galway and County Galway in general are excellent for anyone who can secure a work visa, as a large number of tech companies have a presence there. Apple will soon build a massive data center in Athenry, a town in County Galway. For those seeking a cultural center with lots of music and arts, you'll also be happy in Galway!
International Health Insurance in Ireland
Get a free international health insurance quote from our partner, Allianz Care, whose plans ensure that you have access to quality healthcare whenever you need it. Allianz's flexible solutions allow you to tailor your cover to meet your needs and budget.
Cork
The city of Cork in County Cork is another city that is smaller than Dublin but also has tech and pharmaceutical jobs, among others. While not as bustling or as international as Dublin, there is still no shortage of cultural and nightlife opportunities either.
Kinsale
Expats in Kinsale also live in County Cork. It is a popular tourist destination and is exactly what people the world over imagine when they envision a quaint town on the Irish coast. It is a 30 minute drive without traffic to Cork City.
Westport
Also on the West Coast of Ireland, in County Mayo, you'll find the coastal town of Westport. While extremely popular in the summer, this is routinely cited as not just a great place to visit, but also a great place to live.
Kenmare
Located at the head of Kenmare Bay in County Kerry, Kenmare is in the southwest of Ireland.
According to the Expat Exchange member (who lives in a rural area in Ireland) quoted above in Ireland, "Older folk, beaten up by years of the daily grind, seem to find living off the beaten path enjoyable. Tourist towns are often small but provide all the essentials thanks to the influx of foreign money. A big plus is meeting someone on holiday from your home country, and then slyly bragging that "Oh, we're not tourists — we live here." My favourites are Westport in Co. Mayo and Kenmare in Kerry.