Summary: Expats share some of their favorite places to live in New Zealand from laid back cities to beautiful beach towns.
If you're moving to New Zealand and still searching for the best place to live, here are several places that expats recommend. If you'll be looking for work, you'll probably need to focus on the larger cities of Auckland, Wellington and Christchurch. One expat explained, "If you are moving to the North Island and work is of vital importance then there really are only 2 easy options. Auckland or Wellington and their surrounding suburbs. Unemployment is quite high in NZ however these two cities are large and do have employment to offer.
Plumbers in NZ are still very much required and are paid well, particularly if you work for a well known company. The wages and subsequently the cost of living is high in Auckland. Wellington not so much, although still higher than the South Island. Wellington is very hilly and tight knit, Auckland varies from flat to hilly but is very sprawling. Auckland is big city living but at a NZ pace. There are obviously many other places to live in the North Island, but for example, if you moved to Napier, a very art-deco city on the east coast, unbelievable weather, you would be pushed to find work.
Moving around NZ is very easy, the roads are quiet compared to here (with the exception of Auckland's motorways in rush hour). Relocation is not as expensive as people seem to think and it is not uncommon for people to move somewhere to 'try it out', then move somewhere else if it's not all it's cracked up to be." If finding the perfect climate is your goal, another expat said, "East coast is hot and dry in the summer and cold and crisp in the winter. The temp range will be -2C to 37C (the hottest I experienced in Napier), whereas the west coast has more rain with less temperature variation – around 0C to 28C (I've experienced those extremes in Auckland)." If we missed your favorite place to live in New Zealand, please add it in the comments section below.
Living in Wellington, New Zealand
Wellington, New Zealand is located on the southern tip of the North Island. Wellington is New Zealand's capital city and has a population of just under 400,000. Wellington ranked 12th in Mercer's 2016 Quality of Living Survey. Wellington is home to Wellington Botanic Gardens, Zealandia eco-sanctuary and New Zealand's national museum, Te Pa. "Windy Wellington did not get that name for nothing. Cold, wet and windy there. Bay of Plenty climate is average. Gets plenty of rain and sunshine," said one expat. Another expat added, "Wellington is a great city… very windy and cold though! But you don't need a car and great art and culture scene!" "Wellington has a very lively nightclub, arts and theatre scene. It also has more cafes per capita than NYC," exclaimed one expat.
Living in Auckland, New Zealand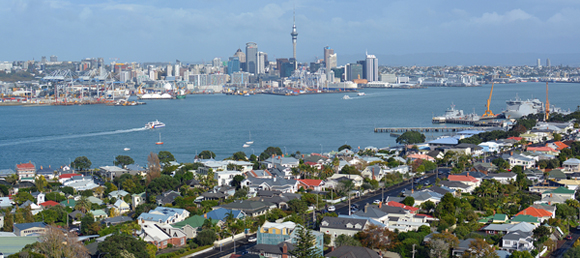 For the fourth year in a row, Auckland was ranked 3rd in Mercer's 2016 Quality of Living survey. That being said, Auckland is an expensive place to live. With a population of over 1.4 million, Auckland is New Zealand's largest city. It is located on the North Island. "The wages and subsequently the cost of living is high in Auckland. Auckland varies from flat to hilly but is very sprawling. Auckland is big city living but at a NZ pace," described one expat.
"It's a VERY outdoorsy place and there are lots of outdoor things to do – kayaking, hiking, boating, skiing, etc, almost year round. Because it's such a small country, nowhere is much further than a short plane ride. The west coast beaches are less than an hour away and they are like NOTHING in the US – isolated, primitive with huge waves. The kiwi dollar is worth less than half the US$. If you're spending US dollars GREAT. If you're making kiwi dollars, you have to be making a lot more. The cost of living is variable as are most American cities. Housing is not the quality you are used to in the US but the tradeoff is many parks and outdoor areas, fewer malls, NO Walmarts, little crime. Restaurants are plentiful and creative – food is fresh and fairly cheap as many things are grown here and there are Asian and Indian influences," explained one expat living in Auckland.
International Health Insurance in New Zealand
Get a free international health insurance quote from our partner, Allianz Care, whose plans ensure that you have access to quality healthcare whenever you need it. Allianz's flexible solutions allow you to tailor your cover to meet your needs and budget.
Living in Christchurch, New Zealand
Located on the east coast of the South Island, Christchurch is the largest city on the South Island with a population of over 350,000. "What a great move, coming to NZ. I am a little biased (born and raised in CHCH), but it is a beautiful city to live in. We are a bit slower than the North Island, a lot more laid back. There are so many wonderful things here. From the beautiful centre city (filled with trees and flowers -the garden city) to the outer areas you hardly need to go any distance to find the life style you are looking for. I hour to mountains for world famous ski feilds, 15 minutes to the beaches, 10 minutes to countryside (no matter where you are). There are wineries, a cafe society, tonnes of malls. The council was voted the best in New Zealand and one of the top in the world. It also has the lowest rates. There is always something free to do if you are a bit skint — flower festivals, free concerts, free firework shows, arranged walking events (and other things like this if you are sporty), Festival of Romance, buskers festival, the list goes on. Summer is brilliant here. It can get frosty in the winter, but it is nice to watch the change of seasons. I have lived in a lot of cities around the world and have travelled a lot, and yes, Christchurch is one of the nicest places that I have been to. My hubby is an expat from Scotland and his brother is too. Both have decided this is one of the best places in the world to live in," reported one member in Christchurch. It's important to note, that there have been a number of earthquakes in Christchurch in recent years. The 6.3 magnitude earthquake in 2011 was the most devastating with 185 people killed.